Eugene Downpayment Assistance Program
Are you saving to buy a house? Eligible homeowners may qualify for up to $40,000.*
The 2022 Eugene Downpayment Assistance Program provides no interest, forgivable loans of up to $40,000 for first time home buyers to cover a portion of the down payment/closing costs associated with their purchase of a home.
Here some frequently asked questions:
How much is it?
Eligible house may apply for up to $40,000
What is the income eligibility?*
Your household gross income must be at or under the following income limits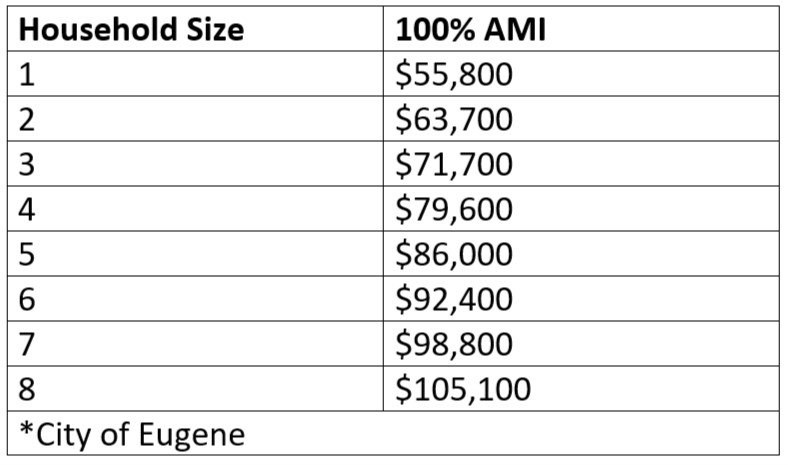 What is the other eligibility?
Be a "first-time homebuyer." That is, you cannot have owned a home in the past three years.
Purchase in the City of Eugene
Purchase a single-family home, including a detached home, a condo, or a manufactured home on owned land
Occupy the home
Have a minimum of $1500 of your own saving for downpayment (or a minimum of 3.5% of the purchase price if you are getting an FHA loan)
Additional loan requirements
What are the required to apply for downpayment assistance?
Is there a cost for the required homeownership class and counseling?
Yes, $75.
What is down payment assistance and how does it work?
Downpayment assistance is a zero-interest loan for first-time homebuyers to help cover a portion downpayment and closing costs.
Is it a loan or a grant?
It's a non-interest bearing, forgivable loan.
If you have any additional questions, please email and put "DPA question" in the subject line.
.