"DevNW helped us learn how to budget, how to save money, and the importance of credit as a business tool... all of that stuff we weren't good at." Lorie Perkins, Financial Wellbeing client and Executive Director of Housing Our Veterans
Housing Our Veterans, a nonprofit in Eugene co-founded by Abie and Lorie Perkins, works with men and women who have served in the military and want to invest again in themselves, their families, and their community. Often building from the ground up, the Veterans who live in the houses managed by Housing Our Veterans are establishing stable homes, maintaining jobs, and accessing community resources. These Veterans are processing past trauma from war, along with loss from the pandemic, while facing a future filled with challenge and potential. Their journeys, and the founding story of Housing Our Veterans, exemplify some of the many ways families, neighbors, organizations and businesses in our communities are living through a time of recovery.
In 2005, during their trip north in search of a new place to call home, a health emergency required the Perkins to detour into the emergency unit of Eugene's Medical Center. While Abie recovered in the hospital, Lorie got to know Eugene's bus routes, neighborhoods, and resources available through the Chamber of Commerce. In a few weeks, she had decided that Eugene was where she wanted to explore her longtime dream of starting a recovery house. With full support from Abie, Lorie got to work.
At that time, DevNW offered Financial Foundations classes at the Chamber. Lorie enrolled, knowing she would need additional skills to manage a nonprofit organization. The Perkins worked with DevNW for two years. "I didn't ever want to leave." Lorie shared, "DevNW helped us learn how to budget, how to save money, and the importance of credit as a business tool... all of that stuff we weren't good at." With the help of DevNW, the Perkins established an Individual Development Account (IDA) to save money for the down payment of the first recovery house, and qualified for a Downpayment Assistance loan for its purchase. Within eight months, the Perkins had opened the first recovery house. Shortly after leaving DevNW, the second recovery house opened. Abie and Lorie were well on their way to building what would become Housing Our Veterans.
Fast forward to 2020, and Housing Our Veterans included eleven houses where 67 Veterans lived while working to rebuild their lives. Individual case management provided assistance to earned benefits, finding employment, and household furnishings. The organization had developed a solid reputation in the community with its success rate. In fact, 90% of the Veterans housed were employed before the COVID-19 shutdown that started in March of 2020. After that, many of them lost their jobs and their ability to pay rent. Between 2020 and 2022, the numbers dwindled to 34 Veterans housed, and it was necessary to close one property entirely. Lorie feared she would have to end the operation completely during that time, but she was determined to continue trying, after promising Abie, who passed away in 2009, that she would keep her dream alive. With a small business loan, Housing Our Veterans managed to keep its doors open, and is now in an active stage of recovery and growth.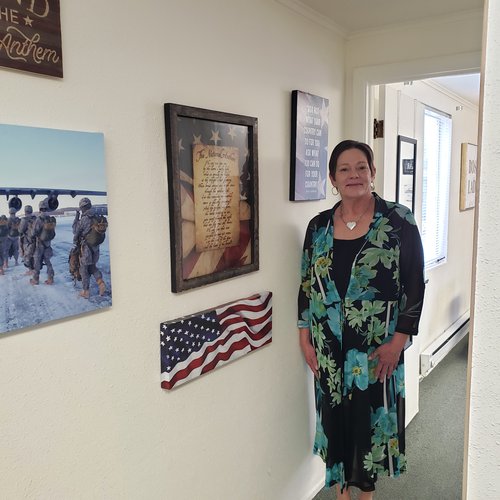 This year, Housing Our Veterans received funding that will allow the nonprofit to not only recover, but expand its services to provide 24-hour response, weekly assessments for incoming clients, and additional networking resources. Office space that includes a small meeting room and two new hires, including a Program Director and an Executive Director Assistant, will bring new vitality to the organization. Most importantly, another property has just been added; one that will offer stable housing to eight women Veterans.
Understanding the value of financial competence, Lorie Perkins reached out to DevNW to establish a referral relationship with our Financial Wellbeing team. By the beginning of 2023, our Financial Foundations classes will be offered to provide the knowledge, support, and tools for the Veterans to build assets and reach long-term financial stability. Each course will include ongoing coaching with a counselor to create individualized action plans to meet goals. DevNW strives to pair education and counseling with financial resources, including individual development (5:1 matched savings) accounts, downpayment assistance, and credit builder loans that further participants' ability to set and achieve their goals.
DevNW is honored to be part of this project. We look forward to working with Housing Our Veterans as part of a larger adaptive community that offers a breadth of possible solutions for recovery and realizations of personal dreams and social potential.